Welcome to the Pikeville Church of God!
1324 Main St., Pikeville, TN 37367 (423)447-2331

Our Mission & Vision
The mission of the Pikeville Church of God is to love God, love others, and to magnify the name of Jesus Christ.
We Want to Go to Church!
If it weren't for our faith, where would we be in this pandemic?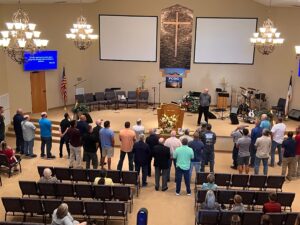 Hebrews 10:25 tells us "Not forsaking the assembling of ourselves together, as the manner of some is; but exhorting one another: and so much the more, as ye see the day approaching." In these unprecedented times, we all should agree that we see the day approaching! Even though COVID-19 has affected basically everything we do in our daily lives, PCOG is being diligent in worshipping together in a safe and protected manner. We are currently holding services 3 times a week: Sunday School 10:00 AM, followed by Worship Services 11:00 AM and 6:00 PM, as well as, 6:30 PM Wednesday evening. Don't hesitate to join us soon and worship with us at our next service. The Psalmist said "For a day in thy courts is better than a thousand. I had rather be a doorkeeper in the house of my God, than to dwell in the tents of wickedness." Psalm 84:10
He said in Psalm 84:4-"Blessed are they that dwell in thy house: they will be still praising thee. Selah."
We believe the Lord still wants us to gather in His house to worship and fellowship and and continue to learn more about Him. Then we can go outside the church and be more like Him. That will fulfill the saying about being the church.
PCOG DIRECTORY
Facebook Videos
Click HERE to access more church videos.